PVC film sheet
Heat-resistant transparent sheet and curtain


This is curtain can be used at the ambient temperature of 120 deg C. It is an unsurpassed transparent and heat-resistant curtain! This enviromentally friendly product contains no phthalate compunds.
Highly reisitant to heat( it can be used at the temperature of 120 deg C) and excellent in flame retardance( it does not melt and retains it shape in case of burning)
Usege : At food plants, welding & injenction forming shops, etc.
Catalog → Heat resisitant transparent sheet

Nonflammable transparent / translucent sheet
Usable as smoke barriers, ceilings and partitions!.



(Nonflammable transparent sheet : Transmittancy 85%, translucent sheet : Transmittancy 59.7%)

After earthquake disasters, nonflammable translucent sheets made of glass cloth attract lots of attention as unbreakable material even when dropped, as smoke barriers, ceilings and partitions.
With antistatic function on both sides. Foundation cloth:100% glass fiber; resin: polyvinyl chloride.
This sheet can be subjected to cutting, welding, sewing and other treatment.
Nonflammable transparent(translucent)sheet containing glass fiber foundation cloth.
It can be treated through thermal welding with welders. It is unbreakable, flexible sheet.
Fireproof products cerified by the Japan Fire Retardant Association. With antistatic function.
Measures taken against sick building syndrome.
Antifoulant-treated on both sides.Containing antibacterial agent.
* For indoor use only.
Usage : As partitions for welding and thermal cutting lines, simplified partitions in clean rooms,
covers for accurate instruments in plants and safety sheets agaist volatile compounds,etc.
WE CANNOT EXECUTE CONSTRUCTION WORK IN AREAS OTHER THAN OSAKA PREFECTURE, JAPAN.
Catalog→
Nonflammable transparent sheet
    →
Nonflammable translucent sheet
Click here for
Nonflammable Sheets
line up in Japanese web site 
日本語の
不燃認定シート
一覧はこちら
Sound-insulated Transparent Sheet 3S / Semi-translucent Sheet / Opaque sheet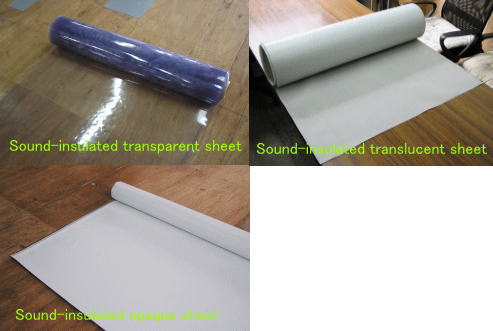 This soundproof transparent / translucent sheets exert excellent sound insulation effect,
suitable for noise control! Excellent lighting performance, sound insulating, highly strong, workable, flameproof and water-repellent!

Transparent sheet 3S(Thickness 2mm)
Coming soon!


Translucent sheet(Thickness 1mm)
The excellent lighting performance realizes well-lighted working environment! The total light transmittance is 47%(general sound insulating sheet: 0%) and yet its sound insulation property is excellent, equivalent to that of general sound insulating sheets. Highly strong, hard to tear and highly duarble. Excellent workability(e.g. welding and printing) and flame-proofness. Passed flame-proof test. With the ground fabric water-repellent, fiber inside the sheet does not go moldy.

Catalog→Sound-insulated translucent sheet

Opaque sheet ( Thickness 1.3mm)
Base cloth made by weav ed highly strong polyester fiber laminated with particular composition resin.
There is 20dB high sound insulation effect in 1000Hz frequency range!
It is flameproofness, passed defined standards of the Fire Service Act;Japanese fire defence law.
O ff white color easilymatches ambient srroundings.

Catalog→Sound-insulated opaque sheet


Sound insulation : noise prevention around machines.
Saving energy : improving cooling and heating efficiency! For building operations, at construction sites and front of plants, as partitions at factories/plants and sound insulation covers for machines and equioments.

Product feature
Heat-resistant transparent sheet curtain: Thickness 0.3mm W1070mm x L30M /per roll

Nonflammable transparent sheet : Thickness 0.35mm W1000mm x L30M / per roll

Nonflammable semi-translucent sheet : Thickness 0.27mm W1000mm x L50M / per roll

Sound-insulated transparent sheet 3S: TBA
Sound-insulated semi-translucent sheet : Thickness 1mm W 1880mm x 28M /per roll

Sound-insulated opaque sheet : Thickness 1.3mm W 970mm x L10.5M / per roll

---