Single-sided aluminum / glass cloth heat-resistant sheet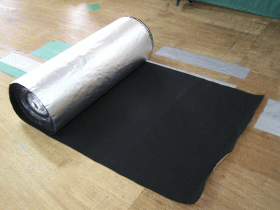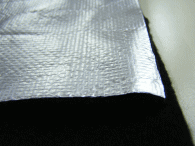 Product feature
Single-sided aluminum/glass cloth heat-resistant felt (nonwoven cloth). Made of heat-resistant felt made of burned and carbonized, special synthetic fabric.Excellent in protection performances against high temperature and fires. Shielding heat and fire. Perfect material for disaster prevention and safety goods, and heat insulating materials. Since glass cloth is weak in bending, this product may crack or break when it is repeatedly bent. It can be used as a fixing cover or partition. It cannot be used as a box-type pallet cover or a curtain that is frequently opened and closed.

---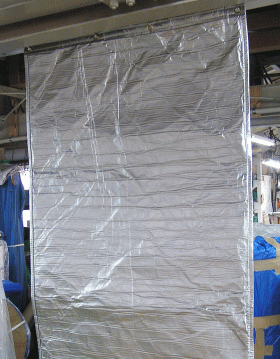 This product shields radiation heat. No scuffing. The coated aluminum foil produces excellent heat-shielding properties, and the glass cloth produces excellent heat resistant properties. Since it is made of flame retardant fiber, it is highly flame-resistant and has high heat-insulation effect. It is made from soft material and thus easy to handle; it is easily cut, punched out, stuck and sewn. Please note that there may be wrinkles on the material surface. Upper temperature limit: 200 deg C in a row.
---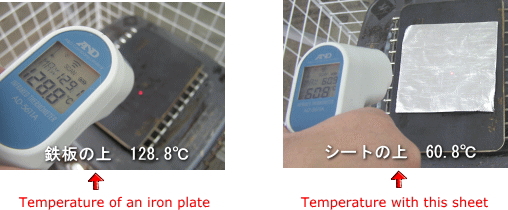 Usage exsample
Perfect for foundation and surface material for high-performance functional material. For heat-insulation, flameproof, sound absorbing and sealing materials in the fields of building material, facilities, railway cars, industrial equipment and light electrical equipment. For products relating to security and fire prevention (high-performance security and fire prevention products) & disaster prevention goods, simplified fireproof curing sheets & tapes, asbestos substitutes, and piping heat-insulation covers.

Features
Aluminium+flame reatardant felt+glass cloth fiber
Heat resistant : approximately 200℃
Thickness: 2mm
Size : Width 950mm(±50mm) x Length 50M
Color: Silver(Aluminium) Black(felt)

Usage precautions : On surface, there can be wrinkle, also not strong for replication